The life-saving helmet
by The Philippine Star | March 15, 2020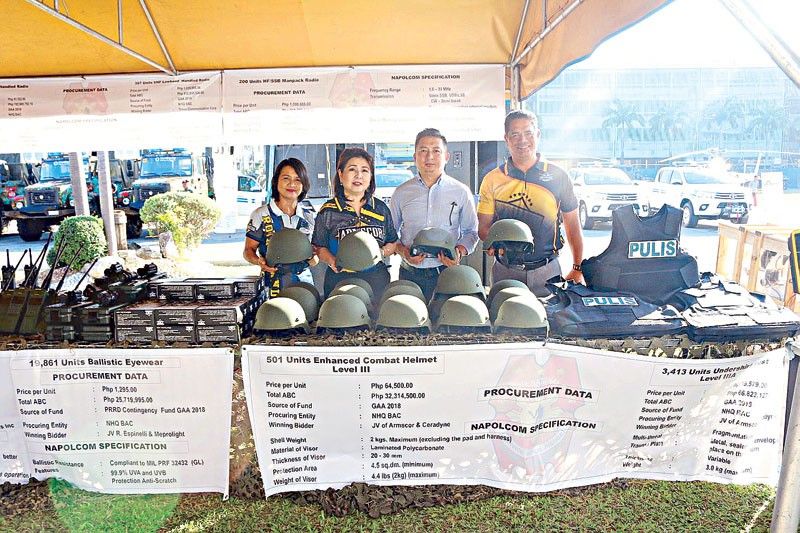 The government's procurement of close to P3 billion worth of new equipment that includes additional helicopters, troop carriers, assault rifles, explosive ordnance disposal (EOD) robots, night vision goggles and numerous items, further boosts the modernization program of the Philippine National Police (PNP).
But while choppers, carriers, assault rifles and other firearms enhance the mobility and fighting capability of our troops, simple gear like helmets can, in fact, spell the difference between life and death for policemen during encounters with rebels, terrorists and other criminal elements.
This was particularly highlighted by PNP Chief Gen. Archie Gamboa during the recent turnover ceremony of new equipment at the PNP headquarters in Camp Crame. Gen. Gamboa narrated the story of Patrolman Juvannie Libradilla of the 1st Bukidnon Provincial Mobile Force, whose unit was attacked by New People's Army terrorist group. Libradilla was shot in the head, but luckily for him, he was wearing an enhanced combat helmet that saved him from sure death.
In 2018, the PNP took delivery of the first batch of the high-quality protective headgear known as the L110 Combat II Ballistic Helmet manufactured by US-based company Ceradyne and exclusively distributed in the Philippines by Armscor Global Defense, the largest firearms and ammunition manufacturing company not only in the Philippines but in Southeast Asia.
The initial 14,000 lightweight ballistic helmets are in line with the PNP's 10-year modernization program. To date, Armscor Global has turned over a total 22,630 units of the L110 helmet to the PNP.
"If not for the high-quality equipment, it could have been a different story," noted Gen. Gamboa, adding that the helmet will be turned over to the PNP Museum to serve as a reminder of the government's commitment to provide quality equipment and protect the lives of personnel as they perform their duty to maintain peace and order, and protect the lives of Filipinos.
Stressing that "every life saved is important and precious," Armscor Global deputy CEO and SEVP Gina Marie Angangco — who is a Philippine Army reservist with the rank of lieutenant colonel — noted that our military and police "need to have the best equipment" considering the sacrifices they are making.
Armscor, the country's biggest and oldest ammunition and firearms manufacturer, whose products are exported to over 60 countries worldwide, recently organized a Tactical, Survival and Arms (TACS) Expo that discussed pandemic preparedness and the issue of coronavirus disease 2019 or COVID-19 to inform and educate the public on preparing for emergency situations.
One of the discussion segments tackled ways to combat the spread of COVID-19, highlighting the importance of getting the right information instead of spreading fake news that will only aggravate the situation. The TACS Expo is one of Armscor's efforts to help build a disaster-resilient Philippines, and equip Filipinos in preparing for situations that threaten the country's security and health as a nation such as the coronavirus, noted Angangco.
By Babe Romualdez, March 15, 2020