Defense Cooperation Eyed Between Philippines, Russia
– by The Philippine Star
MANILA, Philippines – The Philippines and Russia are expected to forge a defense cooperation agreement during President Duterte's visit to Moscow next month, his national security adviser said yesterday.
"Defense cooperation will be finalized when the President visits Moscow by the end of May," national security adviser Hermogenes Esperon Jr. told reporters after Duterte's visit to Russian ship Varyag in South Harbor, Manila.
Defense cooperation will come in the form of training, probably some exchange of information," he added.
Asked if the Philippines and Russia would hold joint military exercises, Esperon said: "That's a long way to go but it can come to that later on."
"We don't really intend to go into alliances, which is a tighter agreement. But we can go into partnerships in mutually beneficial activities," he added.
Esperon said Duterte's planned visit to Moscow was mentioned during his visit to the guided missile cruiser Varyag.
"(Russia) ambassador (to the Philippines Igor) Khovaev is here… When the President was about to come down, 'Mr. President, we will see you in May for the trip to Moscow,'" he said.
Duterte is scheduled to visit Russia on May 25 to strengthen ties between Manila and Moscow.
In November, Duterte and Russia President Vladimir Putin met on the sidelines of the Asia-Pacific Economic Cooperation meet in Lima, Peru to discuss ways to enhance the ties between their countries.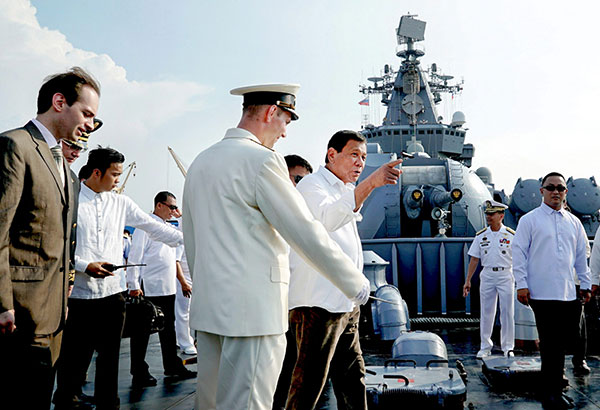 President Duterte is given a tour of the Russian guided missile cruiser 'Varyag' that arrived in Manila yesterday for a four-day goodwill visit.
Ship visit
Duterte also toured the Russian ship Varyag, which docked in Manila Thursday morning for a four-day port call.
"It was in keeping with the invitation extended to the President to visit the ship. It is showing that their coming here is show of goodwill; the visit of the President is also a show of goodwill," Esperon said.
At Pier 15, the President was accorded arrival honors by the Russian Navy contingent. He was accompanied by Esperon, acting Foreign Secretary Enrique Manalo and senior Philippine military officials.
Duterte first went to the upper deck where the short-range anti-missile rocket system is located. He then proceeded to the mid-ship where the long-range anti-aircraft missile rocket system is placed.
The President also went to the bow, where the ship's main weapon or long distance anti-ship missile and anti-aircraft carrier is located.
"The Russians are with me, I shall not be afraid," the President while posing for a photo with Russian officials.
Duterte also toured the ship museum and the admiral's room for the guest book signing.
"He (Duterte) is impressed. This is an old ship. The President has not boarded so many ships so he took time to come here," Esperon said.
Esperon clarified that there are no exercises scheduled between the Philippine and Russian navies.
"When they go out of the port, it is customary for our naval ship to see them off. Probably in the vicinity of Corregidor," the national security adviser said.
In January, Duterte also toured the Russian large anti-submarine ship Admiral Tributs, which also anchored in the country for a goodwill visit.