Philippines, Thailand Eye Stronger Defense, Economic Ties
– by Philstar.com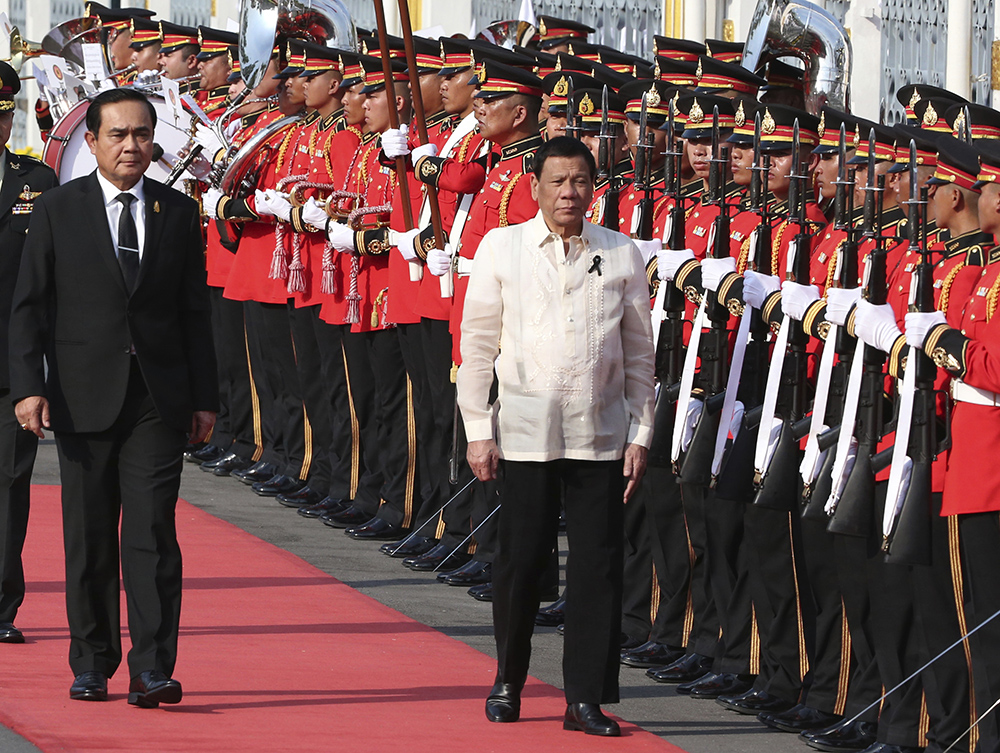 BANGKOK – The leaders of the Philippines and Thailand have vowed to strengthen their defense and economic cooperation and reaffirmed their commitment to work together to address common concerns.
In a bilateral meeting described as "productive and fruitful," President Rodrigo Duterte and Thai Prime Minister General Prayut Chan-o-cha stressed that they have a joint stake in keeping their ties strong to uphold the interests of their countries and the region.
"I am glad that our discussions today were productive and fruitful. The discussions point to a keen interest in moving forward to a future of greater peace, progress and prosperity," Duterte said.
"Among other issues, we resolved to use our consultative mechanisms to the fullest. This will ensure that issues of common concerns are addressed and that we continue to build on the commitments that we have made," he added.
The two leaders cited the need to address traditional and emerging threats to their collective security and stability, including transnational crimes like terrorism and violent extremism, piracy, human and drug trafficking.
"We vowed to do more, our utmost to strengthen cooperation in bilateral, regional, and international levels to effectively address these scourges and menace to our societies," Duterte said.
Prayut said he and Duterte also discussed the need to maintain and further strengthen the cooperation between their respective militaries. They agreed to enhance cooperation in the exchanges of information and intelligence among security agencies to increase efficiency in addressing challenge.
"We stressed the importance of our defense cooperation to achieve these goals and looked forward to the inaugural Joint Committee on Military Cooperation this year," Duterte said.
The two leaders also emphasized the need to sustain the economic advancements and to expand and intensify two-way trade and investments. They noted that enhancing economic ties requires the cooperation of the government and private sector.
"Economic reforms are being instituted in the Philippines. With our emphasis on combatting corruption, eradicating criminality, and dismantling the illegal drug trade apparatus, we are hopeful of more investments coming from Thailand," Duterte said.
The two countries' relationship can be further enhanced through government-to-government interaction and meaningful dialogue, he added.
"We will continue to make progress, great progress. On many fronts and in various areas, we can see the resolve of the things to higher plain," the Philippine president said during the official dinner in his honor.
"Indeed, the opportunities for even more collaboration are expansive. As we surge ahead, we need to rely on each other and we need to work even more closely together."
Agreements
After their closed door bilateral meeting, Duterte and Prayut witnessed the signing of cooperation agreements on agriculture, tourism and science and technology.
The cooperation agreement on science and technology was signed by Science Secretary Fortunato de la Peña and Thai Science Minister Atchaka Sibunruang. The implementing program on tourism cooperation for 2017 to 2022 was inked by Tourism Secretary Wanda Teo and Thailand tourism and Sports Minister Kobkarn Wattanannavrangkul.
A cooperation agreement on livestock development was signed Philippine Carabao Center Executive Director Arnel Del Barrio and Thailand's Department of Livestock Development of the Ministry of Agriculture and Cooperatives Director General Apai Suttisunk.
"Our agriculture sectors should rightly be sectors of national growth," Duterte said.
"We also recognized the importance of tourism for national and regional development, as well as strengthening people-to-people relations. The Philippines looks forward to activities such as promotion of joint tourism destinations to harness this key sector of growth," he added.
Hours before the signing ceremony, Presidential Communications Secretary Martin Andanar announced that the Philippines and Thailand have agreed to craft a bilateral agreement on communications.
The Communication's MOU (memorandum of understanding) will cover cooperation between the two countries in the field of TV, radio, print, public relations and social media management," Andanar said.
"Both sides also agreed that all ASEAN Members should come together to combat fake news," he added.
Support for ASEAN hosting
During the bilateral meeting, Duterte recognized the contributions of the late King Bhumibol Adulyadej to the strengthening of the ties between the Philippines and Thailand. The president wore a black ribbon on his barong to condole with the Thai people for the death of the king.
"I likewise expressed warm wishes to the reign of His Majesty King Maha Vajiralongkorn Bodindradebayavarangkun and we vow our utmost to cooperate with His Royal King," the Philippine president said.
"With formal diplomatic relations for 67 years, we have a proven record of collaboration. We can and should rightfully strive to achieve more," he added.
Duterte also sought Thailand's support for the Philippines' ASEAN chairmanship this year.
"As the Philippines takes on the task of steering ASEAN during this historic year, I am grateful for Thailand's support as we seek to engage our region and our world to achieve the peace, progress and prosperity we all desire for our people," he said.
"We can rightly be described as partners for positive change."
By Alexis Romero (philstar.com) | Updated March 22, 2017 – 11:12am